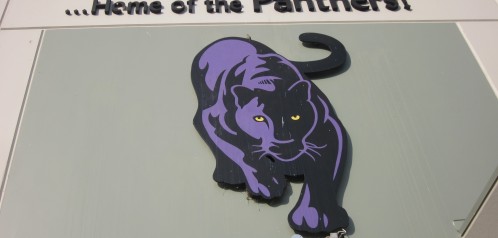 School Information
ABOUT OUR SCHOOL
Promontory Heights Elementary Community School opened in November 2000. It is located on Promontory Hill which is below Mount Thom and on the hillside that leads to the Ryder Lake area
It began  as a school of under 300, and over a short period of time, grew to over 600 students and currently enrolls  approximately 621 students. In order to accommodate this many students in a school that was built to enroll 350 students, we utilize eights portables. 
As you can imagine, Promontory Heights Elementary is a busy place. Even though we have 621 students we work hard to maintain a community feel to the school.   Recognition Assemblies bring us together to celebrate successes. Buddy classes, Peer Helpers, Activity Leaders, Helping Hands, Library/Tech helpers, Recycling and Student Lunch Monitors help to keep our primary and intermediate students familiar and in contact with each other. As a community school we are supported in serving the varied needs of our community through afterschool programs hosted by the Promontory Heights Community School Association (PHECSA)
We strive to maintain a positive, cooperative and respectful learning and working environment. Through the efforts of our staff we hope the programs and activities that we provide serve to support your child(ren) in their social, emotional and academic development.  Our school provides many opportunities for our students and families:
a variety of class, grade group and school wide special events and activities
a number of clubs and teams that participate in District events
a focus on social responsibility through our emphasis on STARS
a number of programs offered through PHECSA including on site after school daycare (Panther Pen), on site pre school, and a host of afterschool, evening, and summer programs.
an active, energetic and committed Parent Advisory Council
We think that Promontory Heights Elementary is a wonderful school and hope that you will find this a great place to be.
This section provides a great deal of information regarding routines and expectations.  Registration and details regarding ourcatchment area/enrollment practices are also available.  We invite you to review the information in this section, as it will provide you with useful information that is often included in our Newsletter and Activity Updates.
See News & Events for Monthly Updates of what has taken place at the school.   
   IMPORTANT AND IMMEDIATE NEWS
LATEST  Newsletter
PARKING LOT
I'm sure you will have noticed that the drop off/pick up zones have been very clearly marked.  This has been done to highlight this area and to help reinforce our commitment to this area being used for the purpose intended.
Safety is our greatest concern at the am and  pm dismissal times.  As many parents are choosing to drive into our small parking lot, traffic congestion is the obvious consequence.  To this end, we must ensure student safety. Parked cars in this zone force students to cross traffic to meet parents in the drive through lane.  We DO NOT condone pedestrian traffic across the traffic lane.  The rolling drop off and pick up creates a smooth flow of traffic and ensures the side walk as the meeting place.
THANK YOU FOR RESPECTING OUR ROUTINE.
OUR CODE OF CONDUCT IS BUILT AROUND STARS. THIS IS WHAT WE SPEND A GOOD DEAL OF TIME TEACHING AND REINFORCING WITH OUR STUDENTS
THE FIRST WORD IS SAFETY:  SAFETY IS MOVING, PLAYING AND WORKING CAREFULLY. ONE OF THE R STANDS FOR RESPONSIBILITY:  RESPONSIBILITY IS MAKING SMART CHOICES.
We ask that you continue to handle your driving routines is a safe manner and make responsible choices when entering your child's place of learning.  Please continue to make it a safe place for all.
PLEASE CONTINUE TO NOT PARK IN THE DROP OFF/PICK UP LANE, THAT IS MARKED ALONG THE SIDEWALK.
Promontory Elementary was originally built to accommodate 340 students, with  the appropriate number of staff.  Today we are  a school of 621, with over 50 staff members arriving on any given day.  On a daily basis, we do not have enough marked staff parking to accommodate staff.  Every day visitors park in staff spaces, or double park behind cars in the far parking area. Please respect our need to allow staff to have available space for which to use at their place  of work.
Parents/Visitors are advised to seek alternate, off site parking arrangements.